Current Class Kits Available
March 2023 Support A Rescue Class – $15   Instruction Sheet
Eggcellent Easter Class – $15  Instruction Sheet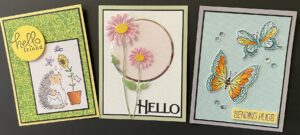 February 2023 Support A Rescue Class – $15   Instruction Sheet
January 2023 Support A Rescue Class – $15   Instruction Sheet
January 2023 Christmas Class – $15  Instruction Sheet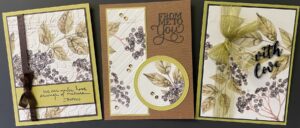 Purple Berries Class – $15   Instruction Sheet
December 2022 Christmas Class – $15  Instruction Sheet
Peony Power – $15   Instruction Sheet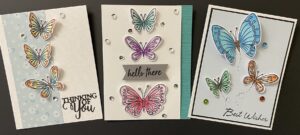 New Day Butterflies – $15  Instruction Sheet
Snowman Joy – $15   Instruction Sheet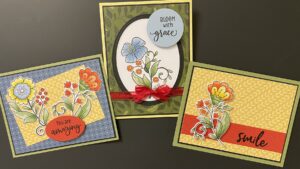 Breezy Blossoms – $15   Instruction Sheet
November 2022 Christmas Class – $15  Instruction Sheet
Floral Halos Cards – $15   Instruction Sheet
Fun Fall Cards – $15  Instruction Sheet
Just For You Mice Cards – $15  Instruction Sheet
October Christmas Class – $15  Instruction Sheet
Happy Howl-O-Ween – $15  Instruction Sheet
September Christmas Class – $15  Instruction Sheet
Potted Posies – $15  Instruction Sheet
Fall Chrysanthemums – $15  Instruction Sheet
Love Grows Class – $15  Instruction Sheet
African Daisies Class – $15  Instruction Sheet
Beautiful Calla Lilies – $20 (incl. stamp & die set)  Instruction Sheet
August 2022 Christmas Class – $15  Instruction Sheet
August 2022 "Support A Rescue" Class – $15   Instruction Sheet
Gladness Flowers – $15  Instruction Sheet
Daisy Blossoms Class – $15  Instruction Sheet
Birthday Puppies Class – $15  Instruction Sheet
Summer Wildflowers Class – $15  Instruction Sheet
July 2022 Christmas Class – $15  Instruction Sheet
July 2022 "Support A Rescue" Class – $15  Instruction Sheet
Butterfly Wisdom – $15   Instruction Sheet
A Fresh Bouquet – $15  Instruction Sheet
Sunny Greetings – $15  Instruction Sheet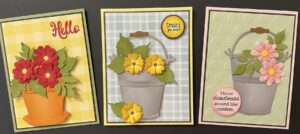 Flower Pots and Buckets – $15   Instruction Sheet
June 2022 Christmas Class – $15  Instruction Sheet
June 2022 Support a Rescue Class – $15  Instruction Sheet
Fun in the Sun – $15   Instruction Sheet
Critter Fun Class – $15  Instruction Sheet
Tall Flowers Class – $15  Instruction Sheet
Blossom and Bloom – $15   Instruction Sheet
Elegant Poppy Stems – $15  Instruction Sheet
Bergenia Flowers Class – $15  Instruction Sheet
Sending Smiles Class – $15  Instruction Sheet
April Christmas Class – $15  Instruction Sheet
Sunshine Class – $15  Instruction Sheet
April 2022 Support A Rescue Class – $15  Instruction Sheet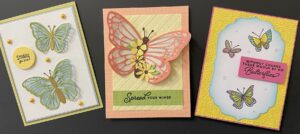 Delicate Butterflies Class – $15  Instruction Sheet
March 2022 Christmas Class – $15   Instruction Sheet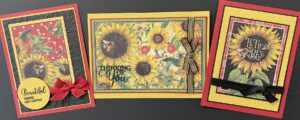 Let It Bee Class – $15  Instruction Sheet
Easter Time Class – $15  Instruction Sheet
March 2022 Support A Rescue Class – $15  Instruction Sheet
Sweet Spring Mice – $15  Instruction Sheet
Just Moosing Around – $15  Instruction Sheet
Cottage Flower Cards – $15   Instruction Sheet
February 2022 Christmas Class – $15  Instruction Sheet
February 2022 Support a Rescue Class – $15  Instruction Sheet
Floral Fantasy Class – $15  Instruction Sheet
January Christmas Class – $15  Instruction Sheet
January 2022 Support A Rescue – $15   Instruction Sheet
Pansy Gaze – $15   Instruction Sheet
Bearing Gifts – $15  Instruction Sheet
Flowers in Vases – $15   Instruction Sheet
Mums the Word – $15  Instruction Sheet
December Christmas Class – $15  Instruction Sheet
Holiday Wonder – $15  Instruction Sheet
Framed Flowers Class – $15  Instruction Sheet
November Christmas Class – $15  Instruction Sheet
Snowman Days – $15   Instruction Sheet
Woodland Friends – $15  Instruction Sheet
Wonderful Wildflowers – $15   Instruction Sheet
Floral Focus Class – $15   Instruction Sheet
October Christmas Class – $15  Instruction Sheet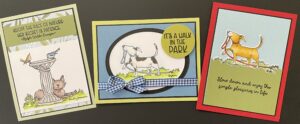 A Walk in the Park Class – $15   Instruction Sheet
September Christmas Class – $15  Instruction Sheet
Peony Dreams Class – $15  Instruction Sheet
In My Garden Class – $15  Instruction Sheet
August 2021 Christmas Class – $15   Instruction Sheet
Lazy Summer Days – $15   Instruction Sheet
Eclectic Garden – $15   Instruction Sheet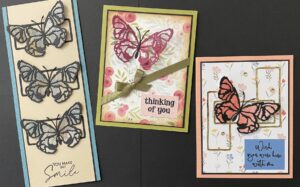 Rustic Butterflies – $15   Instruction Sheet
July Christmas Class – $15   Instruction Sheet
Sail Away – $15   Instruction Sheet
Happy Hydrangeas – $15   Instruction Sheet
House Mouse Antics – $15   Instruction Sheet
June Christmas Class – $15   Instruction Sheet
Watch This Birthday Cards – $15   Instruction Sheet
Crazy Daisies Class – $15    Instruction Sheet
May Christmas Class – $15  Instruction Sheet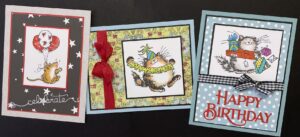 Birthday Critter Cards – $15   Instruction Sheet
Flower Power – $15   Instruction Sheet
April Christmas Class – $15   Instruction Sheet
Full of Flowers Class – $15   Instruction Sheet
Carnation Party – $15   Instruction Sheet
100% of class fee goes to Another Chance Animal Rescue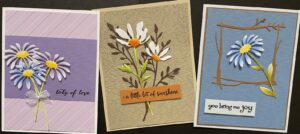 Wildflowers Class – $15  Instruction Sheet
Butterfly Revolution – $15   Instruction Sheet
Happy Day – $15   Instruction Sheet
March 2021 Christmas Class – $15   Instruction Sheet
Sketchy Flowers – $15   Instruction Sheet
February 2021 Christmas Class – $15   Instruction Sheet
January 2021 Christmas Class – $15   Instruction Sheet
Black and Red Together – $15   Instruction Sheet
Aster Explosion – $15   Instruction Sheet
Flowers and Butterflies – $15   Instruction Sheet
Sympathy Cards – $15   Instruction Sheet
Silhouette Scenery Cards – $15 (class kit)  Instruction Sheet
Flower Fun – $15 (class kit)  Instruction Sheet
Penny Black Critters – $15 (class kit)  Instruction Sheet
Crazy Cosmos – $15 (class kit)  Instruction Sheet
Dandy Day – $15 (class kit)  Instruction Sheet
Birds of a Feather – $15 (class kit)    Instruction Sheet
Critter Celebration – $15 (class kit)     Instruction Sheet
Class Kit Information:
Class kits contain everything you need to put the cards together with the exception of coloring materials and basic tape or glue to layer the parts together.  All stamping is done for you.  We are adding foam dots and glue dots as needed.  If you are not a regular customer, you can email me at [email protected] to order.
Postage – We charge actual postage to ship items.  In general, 2 kits will ship for $3.50 and 3-4 kits will ship for $4.50.
Thanks for your support!  These are challenging times – we need to all stay safe to protect each other.